Restaurant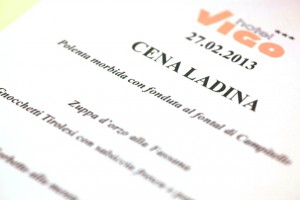 The cuisine is particularly refined, attended to personally by the proprietor, in a cordial and relaxed climate allowing you to spend a happy and relaxing holiday.
In the morning let us wake you with the aroma of coffee, freshly baked bread and pastries that permeates the corridors of the hotel. It's breakfast time! We offer a rich, healthy buffet that will provide you with just the right amount of energy to start your day properly.
Each day we will win you over with different menus that combine the tastiest common Italian foods with specialities from the Trentino area, accompanied by a glass of excellent wine.
Our menu always features a buffet of starters, vegetables and salads from our own garden that we lovingly tend to all year round. Our cakes and desserts are all home-made.
Our restaurant will also offer yoy a typical Ladin dinner to better acquaint you with the local delicacies
We also meet the specific requirements of those who follow a vegetarian or celiac diet.
We also provide special menus for children, planned in collaboration with the parents.
New for the summer: you can cook yourself the grilled meat in Barbecue grill facilities located in our garden.